May 9, 2023 | Serial Wines
Serial Wines Deepens Commitment To Paso Robles Region With Release Of First Estate Wine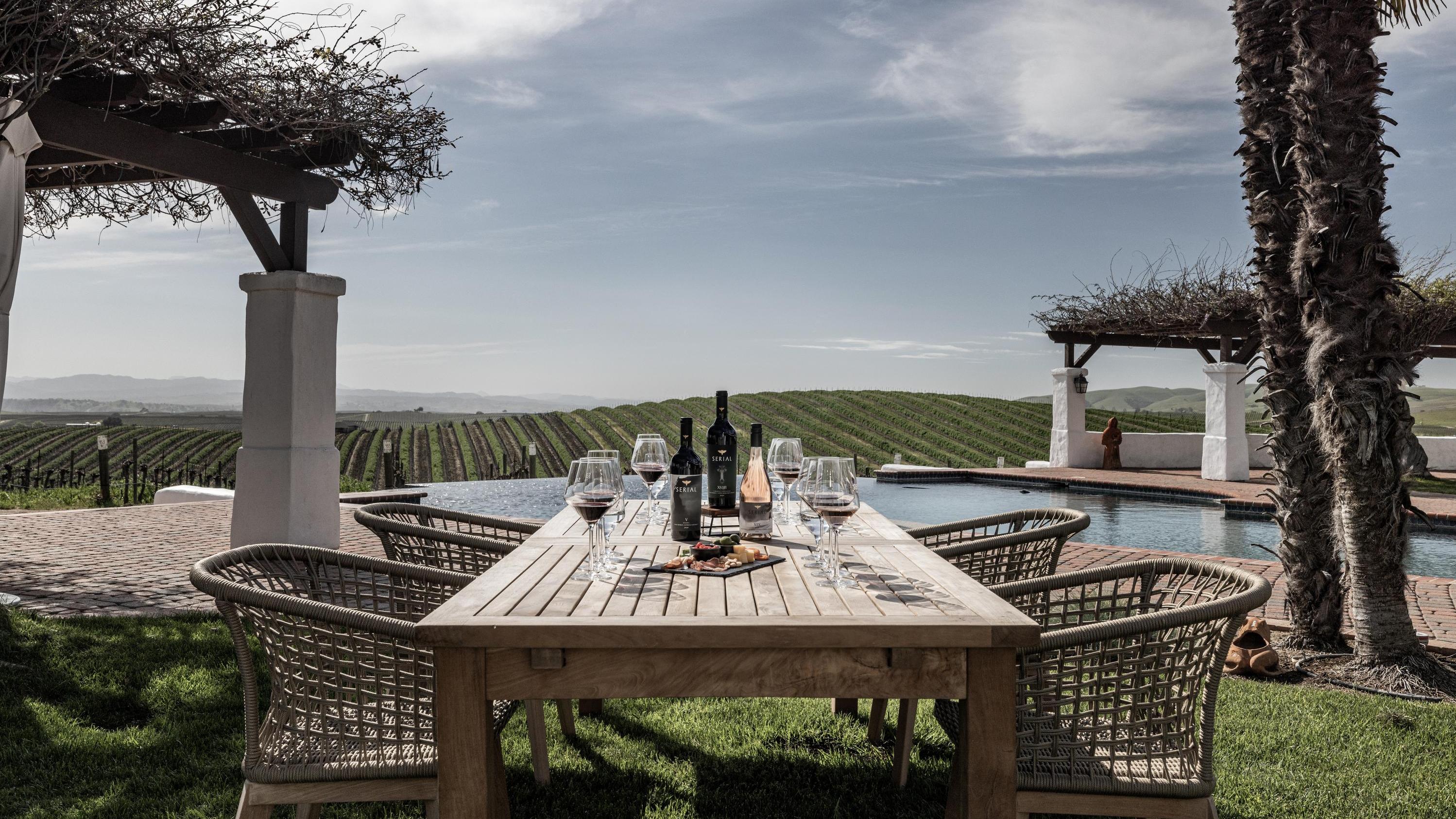 Following the one-year anniversary of opening downtown Paso Robles Tasting Lounge, Serial Wines announces inaugural estate wine, special events, and programming.
Serial Wines, a part of the John Anthony Family of Wines portfolio, announces the release of the label's inaugural, vineyard-designate estate wine from Deseo Vineyard in Paso Robles' Estrella District. The 2022 Serial Deseo Vineyard Rosé is a blend of Tempranillo and Syrah grown exclusively for rosé production. It is the latest exceptional addition to the Serial Wines collection, showcasing a series of varietal-specific wines, nuanced blends, sub-AVA designates, and single-vineyard releases from throughout the diverse Paso Robles region.
Part of the second Spring release for Serial's fast-growing The Collective wine club, this rosé is bright and clean, featuring flavors of watermelon, blood orange, and just-ripe raspberry. Grapes for this direct-press, vineyard-designate release were grown specifically for this rosé at Serial's Deseo Vineyard, a 108 acre, 12 block estate purchased in 2018 by John Anthony Truchard, Founder and CEO of John Anthony Family of Wines. The same vineyard management company that John started in the 1990's farms John Anthony Family of Wines estates in Napa Valley, North-central California, and now also Deseo Vineyard, Paso Robles. It is managed daily by resident Vineyard Manager, Jesus, who has lived on the Deseo ranch for almost 20 years. The vineyard team believes that great wines grow in the farmer's shadow, giving each block its best conditions to produce the highest-quality wines possible by maximizing organic matter through cover crops, planting east to west to minimize dehydration, and maximizing the effectiveness of the vine canopy against the central California sun.
"The release of Serial's inaugural estate wine is a significant milestone in our commitment to the Paso Robles wine region," said John Anthony Truchard, Founder and CEO of John Anthony Family of Wines. "When we first began Serial Wines, our idea was to create a series highlighting Paso's many diverse terroirs and exceptional estates by leveraging our Winemaker's deep experience of the area. From the first release in 2015, to the purchase and replanting of the Deseo Estate, to the opening of our tasting lounge in 2022, and now our first estate release of the Serial Deseo Vineyard Rosé, our endeavors here have been rewarding on so many levels."
Inspired by the diverse and fast-growing Paso Robles AVA and its potential to produce exceptional-quality wines, Truchard first conceived of Serial Wines in 2015 in partnership with Executive Winemaker, Jeff Kandarian, who started his career in Paso Robles and has a deep understanding of its terroir and winegrowing community. Partnerships with several Paso Robles growers resulted in the first release of Serial Wines, a red blend in 2015. Since the launch of the series, Serial now works with over a dozen winegrower partners and produces wines from six of the 11 Paso Robles sub AVAs. Sourcing from their partners' meticulously-farmed estates and now the Deseo estate, Serial produces varietal-specific wines, nuanced blends, sub-AVA designates, and single-vineyard releases from Paso Robles' myriad of microclimates. The elegant Serial Wines Tasting Lounge featuring current releases opened in March 2022 in downtown Paso Robles' historic Odd Fellows building and was named one of USA Todays 10Best best new wineries 2022.
In 2023 Serial Wines will also present several opportunities to enjoy these wines beyond its award-winning, downtown Paso Robles tasting lounge:
"Dinner Series at Deseo Vineyard": A monthly series of intimate, culinary experiences featuring curated pairings of Serial's most highly-allocated wines set at the stunning Deseo private estate residence in Estrella District.
"Day of Life in the Vineyard." On May 13th 2023, Serial invites guests to celebrate their inaugural Spring Release at the Deseo Vineyard estate, where attendees will experience the beauty of the place, the passion of the people and the quality of the product they create with a special food and wine pairing and estate vineyard tour.
"Winemaker Dinner at Jeffry's Wine Country BBQ" May 17th, 2023: In celebration of Paso Wine Fest, join Serial Wines at Jeffry's Wine Country BBQ on for a mouthwatering experience featuring dry-rubbed, smoked premium meats, sides, and small plates paired with a selection of Serial Wines.
"Aspen Food & Wine Classic, June 16th -18th 2023" Serial Wines will pour at the Grand Tasting of this annual event in Aspen, CO alongside releases from the John Anthony Family of Wines portfolio including John Anthony Vineyards, Weather Wines, and JaM Cellars.
For more information on Serial Wines and the above events, to sign up for our newsletter, or to visit the Serial Wines Tasting Lounge, please visit www.serialwines.com.
Comments
Commenting has been turned off.