October 17, 2023 | Serial Wines
FALL RELEASE UNVEILED: The Journey Continues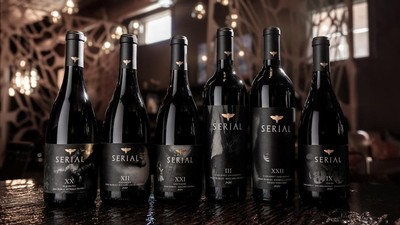 This fall, we unveil the triumphs of vintages past while eagerly anticipating the 2023 wines to come.
Serial Wines' new Fall Release collection features our most ambitious and coveted wines to date, including the inaugural 2021 Cabernet Sauvignon from our estate Deseo Vineyard in the Estrella District. Other standouts include a trio of wines from the famed Adelaida District, including the 2020 Serial Halter Ranch Adelaida District Syrah. See the entire collection here.
Collectively, the Fall Release deepens our journey into the multifaceted terroirs and flavors of Paso Robles. Each of these wines is in high demand with limited production. They are available for a short time at the Serial Tasting Lounge in downtown Paso Robles. Select releases are also available online.
2023 Harvest: First Fruits
Meantime, the 2023 harvest season is finally coming on strong in Paso Robles. An unusually wet winter was followed by moderate spring and summer conditions. Whereas the previous harvest was kicked into high gear early with hot weather in September, the pace of this year's harvest has been slow and steady. Fall officially began on a mild note with temperatures from the high 70s to mid-80s—perfect for nurturing the fruit to a ripe and rewarding conclusion.
"A long, slow ripening curve like this typically provides excellent physiological ripeness in the fruit, with the flavors, phenolics, and acidity all coming together nicely," says Sander Scheer, Serial Wines' director of vineyard operations.
The first fruits of the 2023 harvest season were picked at Deseo Vineyard in early September—specifically Syrah for rosé production. Select lots of Chardonnay followed in the third week of September. Now, however, the harvest is in full swing. We expect to wrap up the season in late October or early November with our last picks of Cabernet Sauvignon.
Celebrate with Serial
We invite you to celebrate this special season at the Serial Tasting Lounge in downtown Paso Robles.
The Serial Masquerade returns on Saturday, November 11th for an unmissable evening of wine, luxury, and mystique. Join elegantly attired guests and blind-taste Serial's most exclusive wines alongside gourmet cuisine and jaw-dropping entertainment. Ticket availability is VERY limited and will sell out. Get your tickets HERE.
Also, stay tuned to our Dinner Series at Deseo Vineyard. These Michelin-caliber culinary experiences are limited to just 10 guests. The November 10th event is already SOLD out, but we will announce our next one soon. Please join the waitlist for updates.
Comments
Commenting has been turned off.