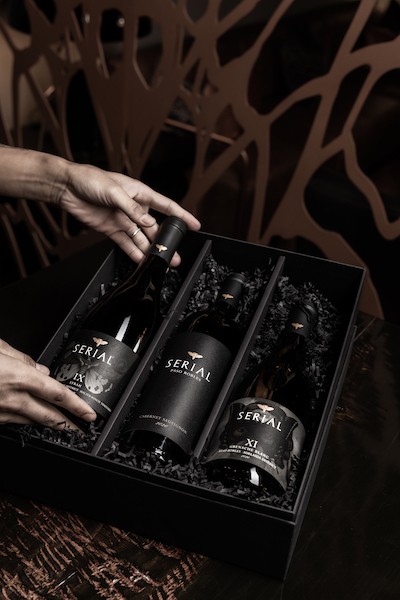 Serial Wines Cabernet Sauvignon & Grenache Blanc Three Bottle Gift Box
This gift set includes three bottles: one bottle of our 2018 Serial Paso Robles Cabernet Sauvignon, one bottle of our 2021 Serial Adelaida District Grenache Blanc Paso Robles, and one bottle of our 2019 Serial Adelaida District Cabernet Sauvignon, Paso Robles
TASTING NOTES:
2018 Serial Paso Robles Cabernet Sauvignon
Rich and sophisticated, redcurrant and black cherry aromatics flirt with cedar and leather showcasing this opulent wine. Decadent flavors of plum, fig and chocolate-covered blueberries provide a big, fruit-driven core. Serial Cabernet Sauvignon is silky smooth and finishes elegantly on notes of ripe cherries and wild berries.
2021 Serial Adelaida District Grenache Blanc Paso Robles
Deep-gold hues promise an intense, vibrant wine from this full-bodied Rhone-varietal grown in the mountainous Adelaida District. Fragrances of fresh-pressed Fuji apple and lemon curd give way to bracing, juicy flavors of ripe peach, D'Anjou pear and greengage plum with the slightest notes of almond croissant on the finish.
2019 Serial Adelaida District Cabernet Sauvignon, Paso Robles
The 2019 Serial Adelaida District Cabernet Sauvignon is a substantial expression of this noble varietal. Dark ruby hues signal the intense black currant and black cherry aromas tinged with leather and tobacco. Flavors of cassis, fig and blackberry compote with hints of dark chocolate and graphite are supported with velvety tannins. A powerful wine that more than delivers on the expectations of an exceptional vintage in Paso Robles.